MAKING YOUR POST-EVENT VIDEO GREAT (AGAIN)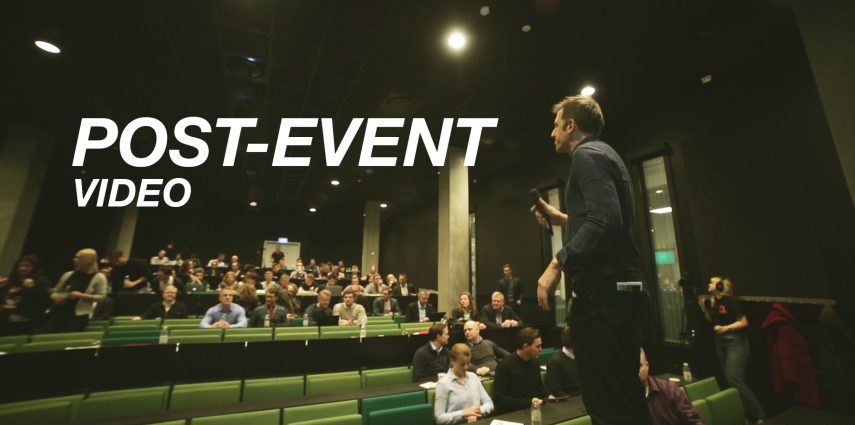 Proper post-event videos not only show off how cool your conference, hackaton or annual corporate get-together is, but can also be used to promote future events and attract attention, participants, and investments. Here are a few hacks on how to take event from good to great
Tell it in 2,5 mins or less
No matter how large and epic your event was, it can always be boiled down to 2,5 mins at the very max. A great post-event video transmits the vibe of the event, giving the viewer a short sneak peak and whet their appetite for knowing more about your company or initiative. Unless your post-event video is solely going to be used as an internal update, it should therefore not be an exact resume of every single thing that went down. Insist on making it longer and people will get bored!
Consider testimonials
Testimonials are a great way to include immediate impressions from the participants or get a quick background story from the organizers. It is not a requirement to make your post-event video stand out; it depends entirely on the nature of your event and your personal preferences.
There are a few things to consider if you do decide to include testimonials. Firstly, should the production crew randomly pick participants from the crowd or do you want any specific people to make a comment? In any case, don't overestimate the number of people you want to include: four to five testimonials is the perfect amount. Secondly, do you want anything specific to be emphasised in the answers or just go with the standard set of questions? Again, in any case, don't overestimate the length of the interviews: each person will only get 10-20 secs of speaking time in the final version of the video, so preparing a hundred questions is an overkill.

Choose your soundtrack wisely&nbsp
The soundtrack will really set the mood for your post-event video, so it's a good idea to choose a few songs that you feel represent the event. The video production crew can naturally do it for you, but they don't know the vibe as well as you do, hence providing them with the few musical options will help them create the post-event video of your dreams.